The Old Beehive turns dreams into reality
Mr and Mrs Horbury have been searching for their new build perfect home for 3 years. Having lived in Bridlington all their lives, they had found it challenging to find the perfect new home away from their home town. Buying a new build has been a dream of Mr and Mrs Horbury for many years now, and they were happy to make their dream a reality.
"If we were able to sell our previous house sooner, we would have moved into Oakdale a long while ago" commented Mr Horbury. "Of all the new build homes we have seen, Oakdale was by far the best quality for price". Mr and Mrs Horbury were looking to downsize their home to one which better suited their life style. Mr Horbury had spent a lot of his precious leisure time to maintain their previous home. "Our new home is so maintainable and more economical to run. There's almost no work required to maintain so it's a load off our minds".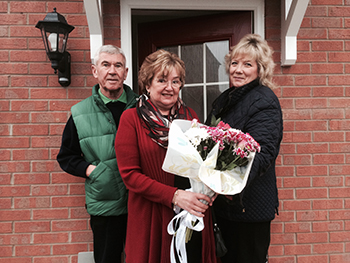 Mr and Mrs Horbury pictured outside their new home with Lyn Pengilley, Senior Sales Advisor, Oakdale Homes
Oakdale homes are situated in many convenient locations such as Retford, Gainsborough (Misterton), Nottingham, Hucknall. The Old Beehive Retford is where Mr and Mrs Horbury chose. "I love everything about being here", explained Mrs Horbury. "The location is just fantastic, everything we need is right here. Every time I visit my old home town, I cannot wait to get back to Retford, we just love being here".
Oakdale Homes have a beautiful range of house types at The Old Beehive ranging from 3 to 4 bed homes, with garage and many other other fantastic features.
On all of its developments, Oakdale set up fabulous show homes to represent their stunning new build homes in all their glory. Mr and Mrs Horbury found the show homes very influential to their decision to purchase a home; "as soon as we entered the show home we could see ourselves living there, it was a huge influence to us" commented Mrs Horbury.

Mr and Mrs Horbury chose The Laxton as their new home. The Laxton is an award winning three bedroom, semi-detached home with en-suite facilities to master bedroom, including a utility and garage.

Retford is an excellent location containing so many amenities' such as rail way line which journeys through most major cities. It has a direct line to London Kings Cross which can take as little as 90 minutes journey time approx. There are many major supermarkets such as ASDA, Morrisons and Aldi all within reasonable walking distance from the development. There is even an airport, Robin Hood Airport, in a driving distance of about 40 minutes. "Retford is just like a perfect secret garden that not many people know about", says Mrs Horbury.
Why not start the New Year in a brand new home? Oakdale offer the Help To Buy scheme which has given so many of their customers the opportunity to take that important leap of buying a new home. part exchange is also available on selected plots. They have a brilliant team of sales staff that are willing to be there all the way through your journey, and even after you have obtained your new home. Mr and Mrs Horbury found Oakdale's sales and site team especially helpful in obtaining their new home in time for Christmas.
Oakdale have several new home "open house" weekends around Christmas time and in the New Year, an independent mortgage advisor may also be on hand to provide free advice on your new home requirements. Please see local press or check web site for details.