Three top interior design trends for your new home
Doing your own interior design can be one of the most exciting aspects of moving into your new home. But with so many looks to choose from you could easily be heading for a design dilemma.
So if you are flustered about fabrics or struggling with styles, don't panic. We've put together a list of three of the hottest trends to get your head buzzing with ideas to transform your home.
1. Geometric patterns
You may not have enjoyed studying geometry at school but you won't be able to keep your eyes off the stunning geometric patterns used in this year's interiors.
Sofas, cushions, curtains and wallpapers are all embracing bold and beautiful graphic patterns.
Even flooring is grabbing the limelight with this striking look, with everything from zig-zag linoleums to striped carpets and multi-coloured parquet flooring.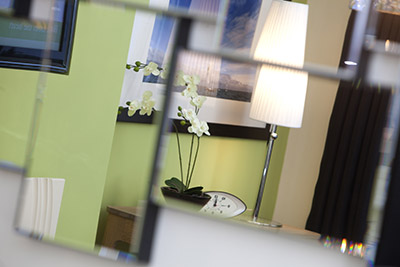 2. Tropical prints
From upholstery fabrics to wallpapers and accessories, tropical is big this year. For maximum wow factor go for bold tropical flower prints in vibrant colours on sofas and statement walls.
To avoid sensation overload, mix these striking elements in a more utilitarian or minimalist interior and create the ultimate chilled-out vibe.
Or if you prefer a look more subtly evocative of tropical climes opt for bamboo and palm tree patterned walls and furnishings in neutral shades or soft metallics.
3. Opulence
Leave the harsh economic times on the doorstep and transform your home with an opulent interior that oozes glamour and ease.
Choose gleaming gem-coloured upholstery that is sumptuous to the touch, such as indigo velvets and garnet satins. Mix with metallic curtains and flock wallpaper to complete the look of grandeur and luxury.
Finally, use a few eclectic accessories with iridescent and marbled effects to evoke a sense of travel to far-flung places.
A unique look for your new home
Whichever trend you choose, you can be sure it will transform your interiors with a bold and distinctive look. Take time to browse pattern books and home interiors magazines for ideas. But remember to always add your own unique touches. Only then can you create a new Oakdale home interior that is truly yours.